Storefront Systems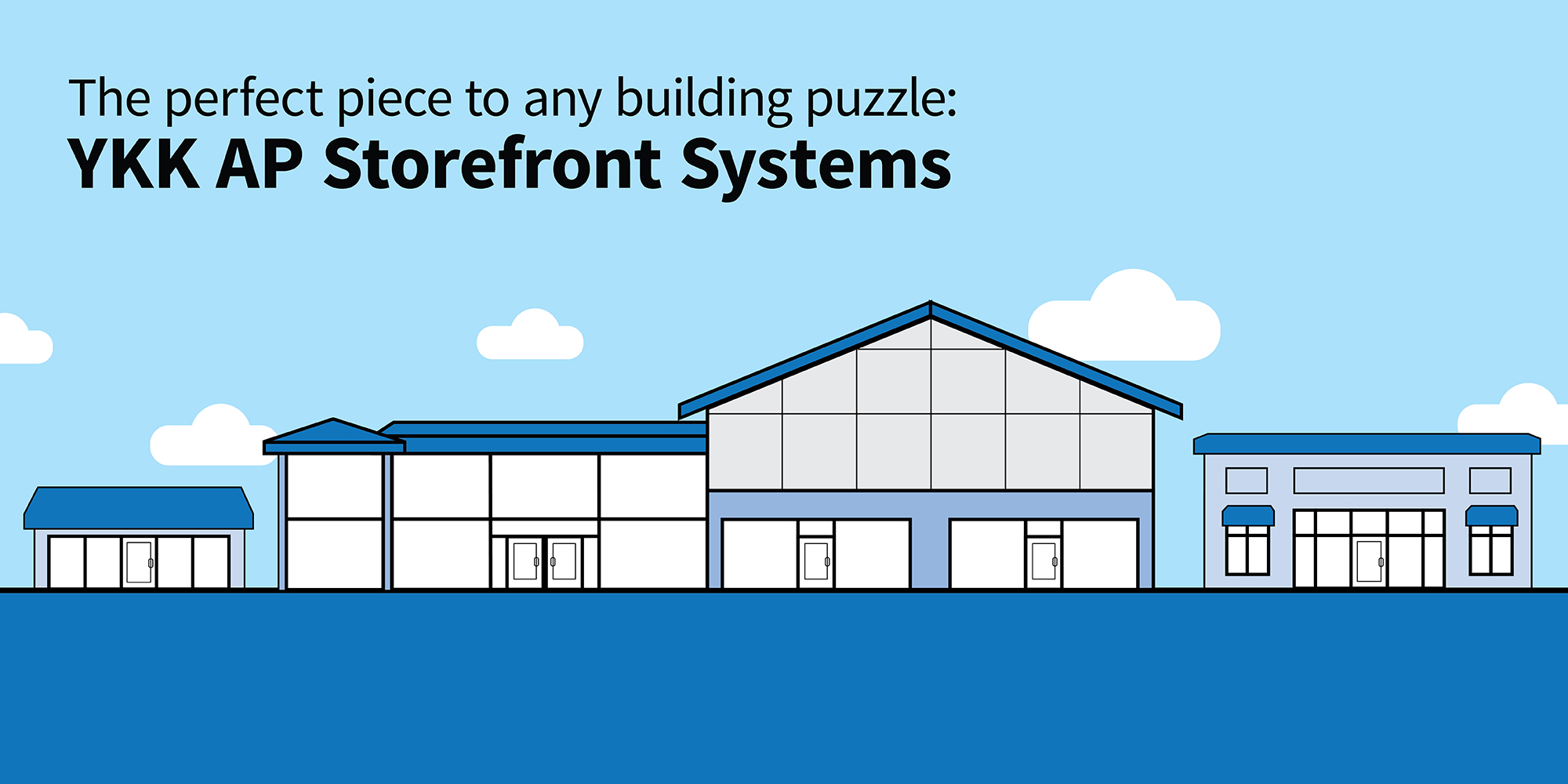 CUSTOM ARCHITECTURAL DESIGN MEETS EASY INTEGRATION
YKK AP STOREFRONT SYSTEMS ARE THE PERFECT GROUND FLOOR FOR ANY PROJECT. OUR INDUSTRY-LEADING QUALITY, VERSATILITY AND SUPPORT MEAN THE ONLY LIMIT IS YOUR IMAGINATION.
Much like a puzzle, YKK AP Storefront Systems complement curtain or window wall solutions and seamlessly integrate with YKK AP sun control, entrance, and architectural windows with vent offerings – proving compatibility is key.
YKK AP offers an array of installation and aesthetic options to satisfy project needs.
YKK AP Storefront System options can be installed with a number of YKK AP offerings for speedier installation – with engineering tolerances ten times the industry standard using YKK AP components; support for wider and taller building spans; and feature industry leading moisture resistance.
Performance options maintain design vision while maximizing occupant comfort, safety and operating costs. Many of our storefront systems are impact tested and utilize either our MegaTherm®, or ThermaBond Plus® thermal barrier technology to improve performance and enhance comfort. enerGfacade® is another option for specific offerings providing ecologically sustainable and economically sensible alternatives.
SUPERIOR PERFORMANCE
Design Flexibility
Designed for taller spans and wider mullions
Compatible with a number of YKK AP products for rapid installation
Industry leading sill flashing for maximum moisture resistance
Durable for low pressure coastal installations
Thermal Technology
Many of our storefront systems offer thermal barrier technology to custom fit your project
Non-Thermal
Standard Thermal
XT Thermal
DIVERSE INTEGRATION
YKK AP also provides custom manufacturing for specific applications and engineering services to support unique designs. YKK AP storefront systems fully integrate with other brand systems including:
Entrances
Window wall systems
Architectural windows and vents
EASE OF INSTALLATION
Fewer parts and pieces
Reduced installation time and labor
Industry-leading quality

Hurricane Protection & Blast Mitigation
The first manufacturer to offer solutions that meet large missile impact level E code requirements. 
Benefits of ProTek® Systems
Improve safety and security from many hazards, including hurricanes, blast events and break-ins
Provide unbeatable protection and design flexibility
If located in an area of the United States that is regularly impacted by hurricanes, it is vital that storefront systems can:
Be hurricane impact-resistant
Meet the standards of regional codes
Possess durability in multiple wind zone levels
Integrate mitigation technology to withstand debris impact
Sustainable & Sensible
The unique YKK AP enerGfacade® product line provides both ecologically sustainable and economically sensible solutions for the entire building envelope.
Drastically increase a building envelope's energy efficiency
Cut waste, control cost and make installation easier
Improve comfort and lower energy consumption by decreasing solar heat gain
Maintain a consistent appearance by applying curtainwall and storefront facades
YOUR ONE-STOP STOREFRONT SOLUTION
YKK AP offers a broad selection of installation and aesthetic options to satisfy your project needs. Our storefront systems are available with a variety of glazing options. Whether you prefer screw spline or shear block installation, we have your design needs covered.
YKK AP offers a complete suite of tools and engineering services to assist in proper system selection, specification and installation. Contact your local sales representative for more information.
Leaders In TRANSPARENCY
YKK AP is your partner for sustainable building and LEED v4 certification. With the completion of a comprehensive life cycle analysis (LCA), YKK AP can now provide product-specific Type III environmental product declarations (EPD) for all products in the Storefront Systems category.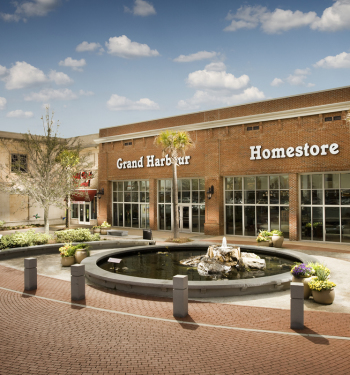 Featured Project
Abercorn Common
Abercorn Commons in Savannah, Ga., was the first shopping center in America to be certified under the LEED rating system. A cluster of attractive brick shops next to anchor stores create a welcoming setting.

View Project