Architectural Windows: Time For A Fresh View
Giving occupants total control of airflow and their overall environment opens the possibilities for improved health and healing, enhanced productivity and maximum satisfaction within a space.
BOOSTING OCCUPANT WELL-BEING
There's no denying the positive impact of outdoor integration on psychological and physiological well-being. Vented commercial windows empower this integration through trusted and proven ventilation technology.
Studies have linked increased airflow and natural ventilation to:
Lower student and employee absences related to illnesses
Improved student performance and test scores
Increased worker productivity
MAXIMIZING AIRFLOW IMPACT
No matter what the room size, using a single vent can provide effective ventilation. Two vents in the same room improve ventilation even further, allowing air to flow in one vent and out the second.
Location Matters
Strategically placing vents in the wind zones that meet a building's requirement is key. Locating vents in areas where higher wind speeds are expected could lower the number of vents required for the building, thus saving costs.
Same Wall Placement: If the two vents are on the same wall, the effect will be less air movement based on prevailing winds and the internal pressure of the building.
Angle/Opposite Wall Placement: If the second vent is on right angle walls or opposite wall to the original vent, cross ventilation will result again based on the internal building pressure and prevailing wind direction.
REFRESHING DESIGN POSSIBILITIES
NOTHING SHOULD STOP YOU FROM PUSHING THE BOUNDARIES OF YOUR DESIGN.
YKK AP's unique vented commercial windows open up refreshing new possibilities.
YKK AP serves a pressing need in the commercial building environment with custom-configurable windows that bring your vision to life. Vented commercial windows work with any building envelope design to provide:
A better fit and finish
Less rework
Reduced HVAC loads
Natural cooling and cross-ventilation
Zero site lines
Our diverse offering of vented windows includes:
Operable
Fixed
Double hung
YOUR ONE STOP FENESTRATION System SOLUTION
YKK AP is your single source for fenestration system solutions. Our vented commercial windows not only allow you to create something natural—and original, they are also compatible with an accomplished lineup of façade products.


Windows with the ProTek® designation are designed to protect buildings from the impacts of hurricanes, blast events and break-ins. They work with our entire ProTek line of curtain walls, window walls and more.
Commercial windows with the enerGfacade® energy saving solution designation provide both ecologically sustainable and economically sensible solutions for the entire building envelope, with superior insulation properties that reduce thermal energy. They work with our entire enerGfacade line of curtain walls, window walls and more.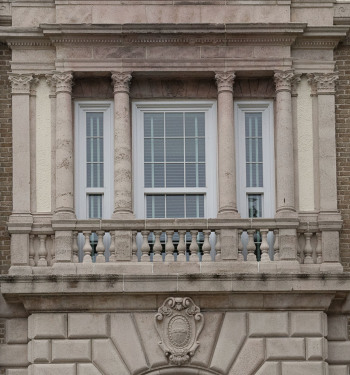 Featured Project
Lee High School
YKK AP was able to replicate the historic look of the original windows and keep in theme with the building while also providing performance and sustainability. There was a significant thermal performance and improved u-factor with the new YKK AP windows. Basically the architect sat down on the table, hand sketched what he wanted and we replicated.
View Project
LEADERS IN TRANSPARENCY
YKK AP is your partner for sustainable building and LEED v4 certification. With the completion of a comprehensive life cycle analysis (LCA), YKK AP can now provide product-specific Type III environmental product declarations (EPD) for all products in the Windows category.