Window Walls
Window wall systems are commonly used in ribbon window configurations or punched openings.  The framing system spans from slab-to-slab and can be installed from the building's interior to improve logistics and reduce installation costs.  Window wall systems can also employ floor slab edge covers that enable the system to mimic the look of a curtain wall system at a significantly reduced cost.
YKK AP offers a complete suite of tools and engineering services to assist in proper system selection, specification, and installation, contact your local sales representative for more information.
LEADERS IN TRANSPARENCY
YKK AP is your partner for sustainable building and LEED v4 certification. With the completion of a comprehensive life cycle analysis (LCA), YKK AP can now provide product-specific Type III environmental product declarations (EPD) for all products in the Window Walls category.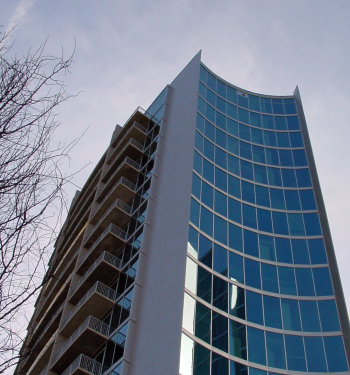 Featured Project
Plaza Midtown
The Plaza Midtown in Atlanta is a mixed-use development featuring residential condominiums in two 20-story towers, and 70,000 sq. ft. of neighborhood retail. The project featured YKK AP window walls and entrances and products from the MegaTherm® line.
View Project