Our Corporate Vision and Philosophy

OUR VISION
AT YKK AP AMERICA, WE AIM TO BUILD THE MOST TRUSTED ARCHITECTURAL PRODUCTS COMPANY IN THE USA
Our foundation is a workforce driven by pride, equipped with the most modern training and technology and recognized for their expertise. Our frame is an uncompromising quality in the design and development of innovative products, advanced manufacturing process and reliable delivery systems. Our facade reflects the enduring relationships we establish through proactive and professional service to our customers.
WE'RE MORE THAN A GOOD LOCAL COMPANY. WE'RE PART OF A GLOBAL COMPANY THAT DOES GOOD.
From product performance to sustainable design, we think of ourselves as a partner. A partner in imparting knowledge, in pushing innovation and in sharing ideas for the benefit of society. When Tadao Yoshida founded YKK, he had this core philosophy in mind: "No one prospers without rendering benefit to others." We take those words to heart in everything we do.
After all, we don't operate in a vacuum. We're not an enterprise separate from greater society but an important member of it. We coexist with other businesses. We support the building industry. We work to improve quality of life. At YKK, we truly measure our value by our contributions to others—not by individual prosperity.

We call our philosophy the CYCLE OF GOODNESS®. And it's how we do business. We start with the premise that one can prosper while contributing to humankind. The two concepts are not mutually exclusive.
Consider this case in point: By reducing material loss in the manufacturing process, we can lower the cost of the final product to the end user and simultaneously make the best use of limited resources. The result? Everyone shares in the profits.
PUTTING PHILOSOPHY INTO PRACTICE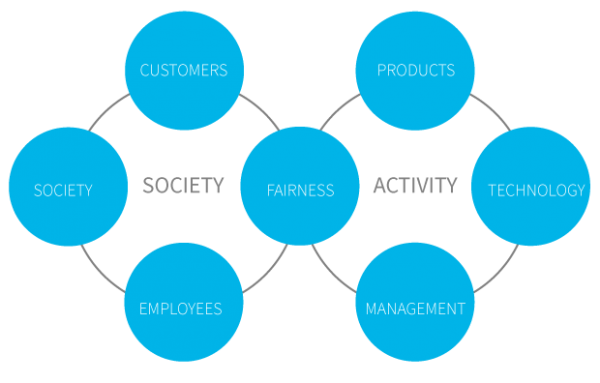 So how do we actually walk the talk? YKK Corporation global chairman, Tadahiro Yoshida has put forth worldwide guiding management principles that we live by every day that pursue quality outcomes in seven main categories:
Society
Customers
Employees
Fairness
Products
Technology
Management
The first three represent the stakeholders YKK AP strives to benefit. The latter three represent the means to create value. And fairness, in the middle, permeates all that we do.