YKK AP Expands Unitized Offering with a New Thermally Broken Curtain Wall for Exceptional Performance and Design Versatility
YUW 750 TU curtain wall provides fast, easy installation, long-term durability and sleek design for today's modern low to mid-rise buildings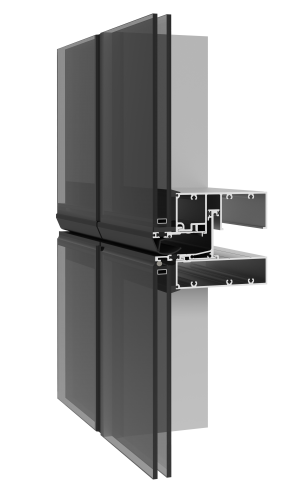 AUSTELL, GA (June 14, 2018) – Today YKK AP America, Inc. (YKK AP) expands its unitized offering with the introduction of a new thermally broken, unitized curtain wall.  The YUW 750 TU is built to deliver the highest level of design versatility and exceptional performance, regardless of climate or location.
"As the construction and design landscape evolves, our customers needs continue to change," said Mike Turner, senior vice president of sales and marketing at YKK AP America Inc. "Our unitized and shop-glazed line was born as a result of this evolution. We listened to our customers and are continuing to expand upon unitized options that provide them with high quality and performance and the versatility needed to fit a multitude of projects, regardless of size or complexity."
The YUW 750 TU offers architects design freedom through the captured or structural silicone glazed  options offered. The captured frame features a 2 ½ in. sightline while the 4-side structural silicone glazed frame features zero sightline creating a sleek modern look. Both framing options offer a high level of structural soundness.
"In addition to providing the many fast and easy installation benefits of being shop-glazed, the YUW 750 TU is a highly efficient and sustainable product that provides a range of options that will enable architects to design with the environment and aesthetics in mind," continued Turner.
The YUW 750 TU boasts maximum thermal performance with a U-Value of 0.41 BTU/HR/FT²/ºF or less, and easily interfaces with sun shades to achieve even greater sustainable performance. YKK AP's ThermaBond+ process enhances the adhesion of polyurethane material to aluminum extrusions, which significantly improves adhesion and prevents dry shrinkage. In the case of extreme surface temperature (180 degrees F/82.2 degrees C.) the thermal movement avoids buckling stresses on glass, joint seal failure, undue stress on structural elements, damaging loads on fasteners, and performance reduction.
YKK AP will showcase the YUW 750 TU at AIA Conference on Architecture 2018 on June 21-23 at booth number 507. For more information about YKK AP or its products, please visit ykkap.com.
ABOUT YKK AP AMERICA
YKK AP America Inc. is a technology-oriented manufacturer of commercial façade systems and residential doors and windows.  With every finished good, we push the boundaries in next generation manufacturing and create value for architectural applications.  Driven by a desire to provide exceptional service in our markets, YKK AP America builds upon our foundation of advanced engineering, vertically integrated manufacturing, and customer focus to deliver the highest level of quality at a competitive price.  Headquartered in Austell, Ga., all building products are manufactured in our world-class production facilities located in Dublin, GA. and Macon, GA. YKK AP America Inc. is a subsidiary of YKK Corporation of America, whose parent company is global manufacturer YKK Corporation of Japan. For more information, visit ykkap.com and follow us on Linkedin.com.
# # #