Direct Freight Southeast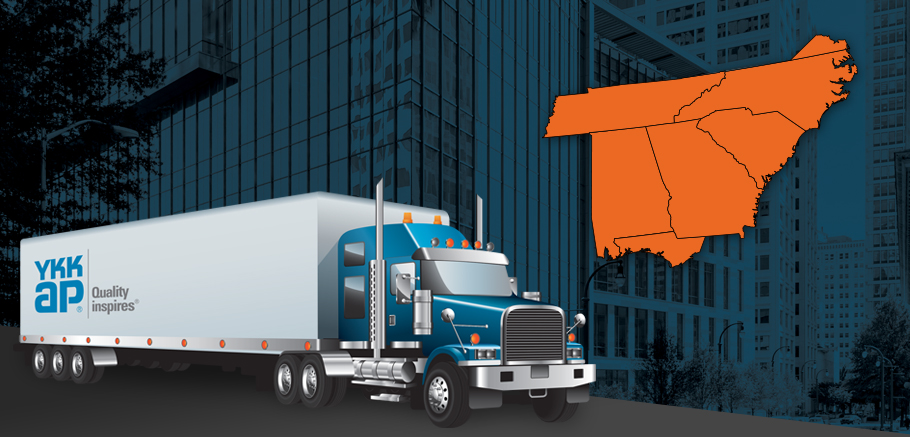 It has never been easier to access YKK AP products.
Dedicated trucking-reliable shipping-local pickup.
Having the best service in the industry is not something we just talk about at YKK AP-it is something we prove every day. Our products have long established us as the undisputed leader in quality.  Now, we've combined our quality with a dedicated freight system to deliver YKK AP products straight to your shop undamaged.
SOUTHeast Route Schedules
| Delivery | Route Details |
| --- | --- |
| Monday | Montgomery, AL / Birmingham, AL / Columbus, GA |
| | Fayetteville, NC / Raleigh, NC / Rocky Mount, NC |
| Monday / Tuesday | Tifton, GA / Albany, GA / Panama City, FL |
| | Huntsville, AL / Jackson, TN / Clarksville, TN / Nashville, TN |
| Tuesday / Wednesday | Macon, GA / Augusta, GA / Savannah, GA |
| Wednesday | Johnson City, TN / Charlotte, NC |
| Wednesday / Thursday | Charleston, SC / Columbia, SC / Florence, SC / Georgetown, SC |
| Thursday | Greensboro, NC / Winston-Salem, NC / Danville, VA |
| Thursday / Friday | Atlanta Metro (100+ mile radius from McDonough) |
| Friday | Athens, GA / Chattanooga, TN / Knoxville, TN / Greenville, SC |
| | Norfolk, VA / Virginia Beach, VA / Asheville, NC |
Request More Information