YKK AP Inc. Presents "WINDOW ON THE FUTURE – GAUDÍ MEETS 3D PRINTING" IN TOKYO
A multi-national, multi-disciplinary exploration of the future of windows explores, "What would Antoni Gaudí have done with the latest 3D printing technology?"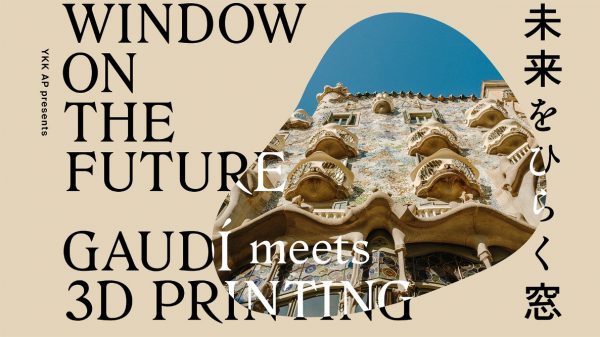 July 8, 2021 – YKK AP Inc. will present an exhibit at TOKYO MIDTOWN (Roppongi, Tokyo) as part of an industry-academia co-creation project aimed at advancing the research and development of windows made using the latest 3D printing technology. The exhibit will showcase prototypes of novel 3D-printed windows which have been designed with various forms and functions that resonate with the natural environment, taking inspiration from the windows of world-renowned architect Antoni Gaudí (1852–1926).
WHEN:
Fri., Oct. 15 – Wed., Nov. 3, 2021
WHERE:
Galleria B1 Atrium (Roppongi, Tokyo) at TOKYO MIDTOWN
during the annual design events, Tokyo Midtown DESIGN TOUCH 2021 and DESIGNART TOKYO 2021
ADMISSION: Free
RELATED LINKS:
Exhibit Website: https://www.ykkap.co.jp/consumer/satellite/sp/window-future/en/
Instagram: @windowonthefuture
ABOUT THE EXHIBIT: This exhibit, "Window on the Future―Gaudí Meets 3D Printing," offers a view into the future of windows that have continued to evolve at the thresholds between nature and human life, while at the same time resonating with the YKK Group Environmental Vision 2050, "Towards a brighter future for nature and humanity," and with Gaudí's open-minded vision to dissolve the distinction between architecture and nature. As expressed by its speculative theme, "What would Gaudí have done with the latest 3D printing technology?" the project also reflects an effort to apply the inspired designs of the past to the future.
The project will foster collaborations between companies, creators, and specialists working in different fields and regions around the world, including creative director Keita Suzuki of the Product Design Center, a creative studio whose portfolio includes a wide range of designs from everyday goods to train cars, associate professor Takeshi Yamamura, a Gaudí researcher who has been on board since the project's inception, graphic designer Masashi Murakami of Emuni, who is known for his rebranding of Kirin Lemon and art direction of the Tokyo Festival, and space designers YSLA Architects, a Japanese-Spanish architect duo.
The exhibit will be presented as part of both the annual autumn design events Tokyo Midtown DESIGN TOUCH 2021 and DESIGNART TOKYO 2021 and realized with the cooperation of Gaudí-designed UNESCO World Heritage Sites Casa Batlló and Casa Milà.
Creative Direction: Keita Suzuki (Product Design Center)
Product Design: Product Design Center
Academic Supervision: Takeshi Yamamura (Associate Professor, Tokyo Polytechnic University)
Graphic Design: Masashi Murakami (Emuni)
Space Design: Takeshi Yamamura + Natalia Sanz Laviña (YSLA Architects)
Photo (Main Visual): Salva Lopéz
For more information, YKK AP will deliver window-related contents at the exhibit website and via Instagram at @windowonthefuture.
ABOUT YKK AP AMERICA
YKK AP America Inc. is a technology-oriented manufacturer of commercial façade systems and residential doors and windows. With every finished good, we push the boundaries in next generation manufacturing and create value for architectural applications. Driven by a desire to provide exceptional service in our markets, YKK AP America builds upon our foundation of advanced engineering, vertically integrated manufacturing, and customer focus to deliver the highest level of quality and a positive customer experience. YKK AP America's subsidiary brand, Erie Architectural Products partners with glazing contractors to design, test and engineer solutions for large-scale projects using its ENVIRO|FACADES curtain wall systems. YKK AP America is headquartered in Austell, Ga., with its major projects company Erie Architectural Products located in Lakeshore, Ont. All building products are manufactured in our world-class production facilities located in Dublin, Ga., Macon, Ga. and Lakeshore, Ont.  For more information, visit ykkap.com and follow us on Linkedin.com.
# # #