YKK AP America Recognizes Top Performers of 2019 Fiscal Year at Virtual Annual Sales Meeting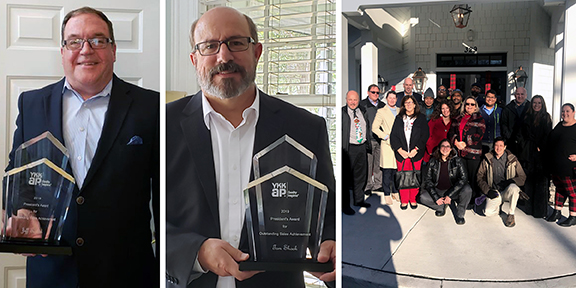 Jeff Turicik and Tom Shook win the President's Award and Baltimore takes home Branch of the Year 
AUSTELL, Ga. (July 13, 2020) – YKK AP America recognized its top performers of 2019 during its first-ever virtual annual sales meeting. The recipients were selected based on performance and growth during the 2019 fiscal year, as well as embodying the company's core values.
Honorees included the Baltimore branch who received the coveted Branch of the Year Award, and architectural sales representatives, Tom Shook of the Greensboro, NC branch and Jeff Turicik of the Baltimore branch, were honored with the company's most prestigious individual honor, the President's Award. The Branch of the Year Award, presented to the Baltimore branch, recognizes outstanding achievements in sales, profitability, operations and customer service excellence. Derick Clutchey, who manages the Baltimore team, accepted the award on behalf of the branch. 
"I am extremely proud of the dedication of our team," said Clutchey. "2019 was an exceptional year for our branch, thanks to their hard work and commitment to our customers."
YKK AP America, Inc. hosts the annual meeting to provide an opportunity to recognize the hard work and contributions of the company's sales team members. This year the meeting was held virtually to protect the health and safety of the sales team.
"We are incredibly proud of the many dedicated members of our sales team who work hard day in and day out to create value for our customers," said Mike Turner, senior vice president of sales and marketing at YKK AP America Inc. "It was an honor to recognize them with these well-deserving accolades, and we look forward to their continued success as we continue to grow as a team – and as a company."
ABOUT YKK AP AMERICA
YKK AP America Inc. is a technology-oriented manufacturer of commercial façade systems and residential doors and windows. With every finished good, we push the boundaries in next generation manufacturing and create value for architectural applications. Driven by a desire to provide exceptional service in our markets, YKK AP America builds upon our foundation of advanced engineering, vertically integrated manufacturing, and customer focus to deliver the highest level of quality and a positive customer experience. YKK AP America's subsidiary brand, Erie Architectural Products partners with glazing contractors to design, test and engineer solutions for large-scale projects using its ENVIRO|FACADES curtain wall systems. YKK AP America is headquartered in Austell, Ga., with subsidiary Erie Architectural Products located in Lakeshore, Ont. All building products are manufactured in our world-class production facilities located in Dublin, Ga., Macon, Ga. and Lakeshore, Ont.  For more information, visit ykkap.com and follow us on Linkedin.com.
# # #