YKK AP America Appoints Yassir Chbouki to Controller
Expertise in financial management in the manufacturing industry will ensure the highest level of internal efficiencies and integrity
AUSTELL, Ga. (April 27, 2020) – YKK AP America has appointed Yassir Chbouki to the position of controller. He will be responsible for ensuring the highest quality of internal efficiencies and integrity in YKK AP's financial reporting. Chbouki will report to Toby Gould, vice president of finance.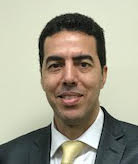 "Yassir brings a wealth of experience in financial management within the manufacturing industry that makes him the perfect fit for this position," said Toby Gould, vice president of finance for YKK AP America Inc. "His financial acumen combined with his experience and enthusiasm will undoubtedly provide great contributions to our team. We're thrilled to welcome him to YKK AP."
Chbouki comes to YKK AP with a strong financial background in the manufacturing environment. Most recently, he spent 13 years at Blue Bird Corp. in Macon, Ga. where he managed capital budgeting, cost accounting, financial reporting and forecasting. He has a masters degree in accounting and financial management.
"YKK AP is well-known for its commitment to the highest standards within manufacturing and I am proud to join a company in which I can contribute my knowledge and expertise," said Chbouki. "I look forward to growing my career with YKK AP."
ABOUT YKK AP AMERICA
YKK AP America Inc. is a technology-oriented manufacturer of commercial façade systems and residential doors and windows.  With every finished good, we push the boundaries in next generation manufacturing and create value for architectural applications.  Driven by a desire to provide exceptional service in our markets, YKK AP America builds upon our foundation of advanced engineering, vertically integrated manufacturing, and customer focus to deliver the highest level of quality at a competitive price.  Headquartered in Austell, Ga., all building products are manufactured in our world-class production facilities located in Dublin, GA. and Macon, GA. For more information, visit ykkap.com and follow us on Linkedin.com.
# # #