YKK AP America Hires Lawrence Soto to Expand Visibility and Support Customer Demand in Western Region
SAN FRANCISCO (March 15, 2019) – YKK AP America today announced it has expanded its western regional presence with the addition of Lawrence Soto. Soto, an industry veteran with more than 15 years of experience, has been hired to lead a dedicated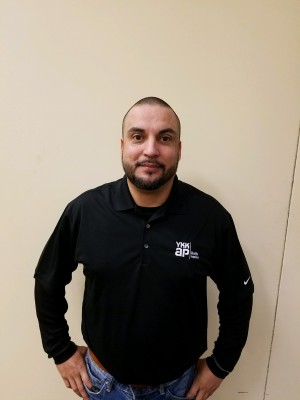 team of estimating and customer service personnel in the San Francisco Bay Area. His expertise will help YKK AP expand its brand visibility as a leading national supplier of facade solutions while continuing to support demand within the region.
Soto comes to YKK AP with an impressive portfolio of experience in the fenestration industry, including direct sales and management, overseeing estimating teams and direct fabrication and quality control of fenestration products.
"Lawrence's diverse skill set and expertise in sales, estimating and quality control makes him a perfect fit as we continue to grow our team in the western region," said Joey Bernard, western region general manager for YKK AP America Inc. "We're extremely confident in his ability to lead the charge. By expanding our brand visibility and continuing to support the demand for additional customer service and project support capabilities, we will provide more of the high-quality, innovative building solutions our customers have come to expect from YKK AP."
YKK AP first established its presence in the eastern region of the United States. It began its expansion out west in 2014, with the opening of a manufacturing facility in Dallas, Texas and has continued to grow its sales team with representatives in Arizona and Southern California. Its direct freight network has also expanded to Arizona and California, providing customers with a direct, efficient way to receive shipments on time and without damage.
To learn more about YKK AP America's commercial facade systems and residential doors and windows, go to www.ykkap.com.
ABOUT YKK AP AMERICA
YKK AP America Inc. is a technology-oriented manufacturer of commercial façade systems and residential doors and windows.  With every finished good, we push the boundaries in next generation manufacturing and create value for architectural applications.  Driven by a desire to provide exceptional service in our markets, YKK AP America builds upon our foundation of advanced engineering, vertically integrated manufacturing, and customer focus to deliver the highest level of quality at a competitive price.  Headquartered in Austell, Ga., all building products are manufactured in our world-class production facilities located in Dublin, GA. and Macon, GA. YKK AP America Inc. is a subsidiary of YKK Corporation of America, whose parent company is global manufacturer YKK Corporation of Japan. For more information, visit ykkap.com and follow us on Linkedin.com.
# # #