YKK AP America Opens Doors to New Manufacturing Facility in Cincinnati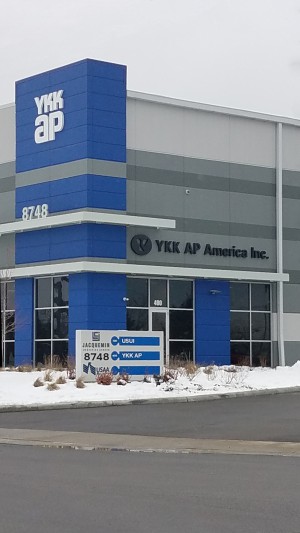 View/Download the Midwest Manufacturing Flyer
CINCINNATI, Ohio (Jan. 23, 2019) – YKK AP America today announced it has opened its doors to a new manufacturing facility in Cincinnati, Ohio. The manufacturing center, which will be dedicated to production, distribution and logistics, will improve the company's service capabilities for customers in the midwest region. The establishment of this new facility underscores YKK AP's commitment to quality and service for its customers both locally, and across the country.
The new manufacturing facility offers 100,000 square feet of space designed to increase YKK AP's local production capabilities and allow for more finished goods inventory. It will serve as a key U.S. distribution center for customers serviced from the Chicago and Cincinnati branches. Additionally, the facility will contribute to local economic growth, creating approximately 30 jobs in manufacturing and operations over the next three years.
YKK AP's new manufacturing facility will be managed by YKK AP veteran Thomas Belmont, who will lead a team of dedicated operations personnel. The Cincinnati branch, now collocated at the facility, will continue to focus on customer service, estimating and other support services. Glenn Smith remains general manager of the region with responsibility for the Cincinnati and Chicago branches. Together, Smith, operations manager Belmont and YKK AP's dedicated team will work together to deliver industry-leading service to support customers' needs in the midwest region.
"The opening of a manufacturing facility in the heart of the midwest will enable us to better serve and respond to customers in the midwest region by offering them more commercial facade systems closer to home," said Oliver Stepe, president of YKK AP America Inc. "At its core, YKK AP is committed to exemplary quality and service. By expanding our manufacturing and distribution capabilities, we hope to extend this commitment and best service customers by  bringing high-quality, innovative building solutions to the industry."
To learn more about YKK AP America's commercial facade systems and residential doors and windows, go to www.ykkap.com.
ABOUT YKK AP AMERICA
YKK AP America Inc. is a technology-oriented manufacturer of commercial façade systems and residential doors and windows.  With every finished good, we push the boundaries in next generation manufacturing and create value for architectural applications.  Driven by a desire to provide exceptional service in our markets, YKK AP America builds upon our foundation of advanced engineering, vertically integrated manufacturing, and customer focus to deliver the highest level of quality at a competitive price.  Headquartered in Austell, Ga., all building products are manufactured in our world-class production facilities located in Dublin, GA. and Macon, GA. YKK AP America Inc. is a subsidiary of YKK Corporation of America, whose parent company is global manufacturer YKK Corporation of Japan. For more information, visit ykkap.com and follow us on Linkedin.com.

# # #