How to Identify the Right Mix of Form and Function When Replacing Windows at Home
Windows are a long-term investment for homeowners, so it is important that they find the right mix of function and form that works for their home style. Here are the pros and cons of several styles to keep in mind: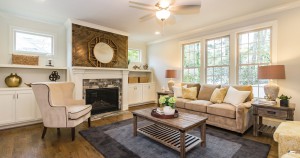 DOUBLE-HUNG WINDOWS – Often seen in craftsman homes, they are a great fit for both traditional and modern styles. Two sashes tilt in for easy cleaning, which is especially convenient for the exterior glass of upper floors.
SINGLE-HUNG WINDOWS – Extremely versatile across home styles, they offer the look of a double-hung window but with a removable upper sash to provide for simple, safe opening for drywall pass-through and repair.
CASEMENT WINDOWS – These are often used in more contemporary or modern style homes, as they offer a clean look. They can be easily combined in multiple units to create dramatic effects and improved ventilation.
SLIDER WINDOWS – A durable and budget-friendly option, often recognized for their use in mid-century modern homes. They offer a beautiful option for giving a room an appealing focal point, inviting natural light into the room and taking advantage of its views.
Learn more about YKK AP Vinyl Replacement Windows and Doors.