YKK AP Expands Direct Freight Shipping Program to Western Region
Dedicated service provides a convenient and efficient shipping experience that minimizes potential for damage
AUSTELL, GA. (Oct. 1, 2018) – YKK AP America customers in California and Arizona are now part of their direct freight shipping program. The program, already successfully established in the Northeast, Southeast, Midwest, and Southwest regions, greatly reduces the use of less-than-truckload (LTL) transportation and improves the overall customer experience by providing a more direct, efficient way to receive shipments, limiting the potential for damage.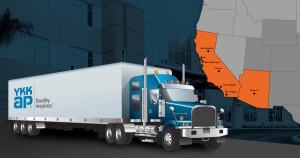 "The direct freight shipping program uses a dedicated logistics system to handle transportation and deliveries. Due to the longer distances shipments have to travel in our western states, packaging and handling procedures are critical to minimizing any potential for damage," said Dennis Howard, manager of transportation and logistics at YKK AP America.
Shipments are scheduled to deliver on specific days each week, enabling the customer to improve productivity by better scheduling their labor needs. The system also maintains the flexibility to order and receive full truckloads outside of the regularly scheduled route service.
"As we continue to grow our presence in California and Arizona, the Western region was the next natural fit for the expansion of the direct freight shipping program," continued Howard. "The program has allowed us to build upon our goal to provide the best quality and service to our customers. We have received a highly positive response to it in other regions and are proud to continue our expansion into this rapidly growing market."
For more details on the program, please go to www.ykkap.com/freight. Customers can contact their branch directly to get more information on routes servicing their specific location.
About YKK AP America
YKK AP America Inc. is a technology-oriented manufacturer of commercial façade systems and residential doors and windows.  With every finished good, we push the boundaries in next generation manufacturing and create value for architectural applications.  Driven by a desire to provide exceptional service in our markets, YKK AP America builds upon our foundation of advanced engineering, vertically integrated manufacturing, and customer focus to deliver the highest level of quality at a competitive price.  Headquartered in Austell, Ga., all building products are manufactured in our world-class production facilities located in Dublin, GA. and Macon, GA. YKK AP America Inc. is a subsidiary of YKK Corporation of America, whose parent company is global manufacturer YKK Corporation of Japan. For more information, visit ykkap.com and follow us on Linkedin.com.
# # #