YKK AP America Announces Retirement of Mark Richards, General Manager of Northeast Region; Derick Clutchey Named as Successor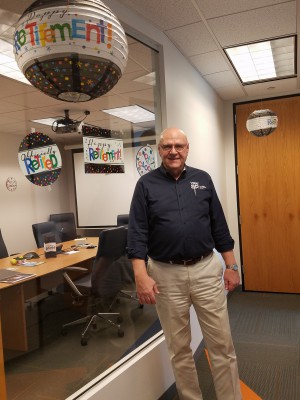 AUSTELL, Ga. (April 3, 2018) – YKK AP America Inc. today announced the retirement of Mark Richards, General Manager of the Northeast Region. Richards' commitment, leadership and strategic business approach strengthened his team members in Baltimore and Boston, and grew YKK AP's footprint in the region. Baltimore Branch Manager, Derick Clutchey, will assume leadership of the Northeast region.
Richards joined YKK AP America in 2006 as Branch Manager for the Boston branch, and in a short time frame he acquired the responsibility of managing the Baltimore branch as well. Over the years, Richards has continually strived for excellence in every endeavor and empowered those around him to seek the same.
Since 2016, when Clutchey joined the company, Richards mentored and supported him as he expanded his building products background to include the fenestration industry. Clutchey quickly established himself in his role as Branch Manager in Baltimore, and has continued to succeed in every aspect of his position. In 2017, the Baltimore branch was recognized for "Branch of the Year" for excellence in sales and customer service.
"Mark will be greatly missed. He has served as an integral member of our sales leadership team for the past several years, and his commitment to excellence has been a tremendous asset to YKK AP. We wish him the very best as he moves on to this next phase of life," said Mike Turner, senior vice president of sales and marketing at YKK AP America. "Mark built an incredible foundation for future success in the Northeast region. We are thrilled to see Derick step into this role, and continue to build YKK AP's brand presence and sales within the Northeast region."
Clutchey will be based in Baltimore, MD.
ABOUT YKK AP AMERICA
YKK AP America Inc. is a technology-oriented manufacturer of commercial façade systems and residential doors and windows.  With every finished good, we push the boundaries in next generation manufacturing and create value for architectural applications.  Driven by a desire to provide exceptional service in our markets, YKK AP America builds upon our foundation of advanced engineering, vertically integrated manufacturing, and customer focus to deliver the highest level of quality at a competitive price.  Headquartered in Austell, Ga., all building products are manufactured in our world-class production facilities located in Dublin, GA. and Macon, GA. YKK AP America Inc. is a subsidiary of YKK Corporation of America, whose parent company is global manufacturer YKK Corporation of Japan. For more information, visit ykkap.com and follow us on Linkedin.com.
# # #