YKK AP America Appoints Key Leaders to New Positions Focused on Customer Experience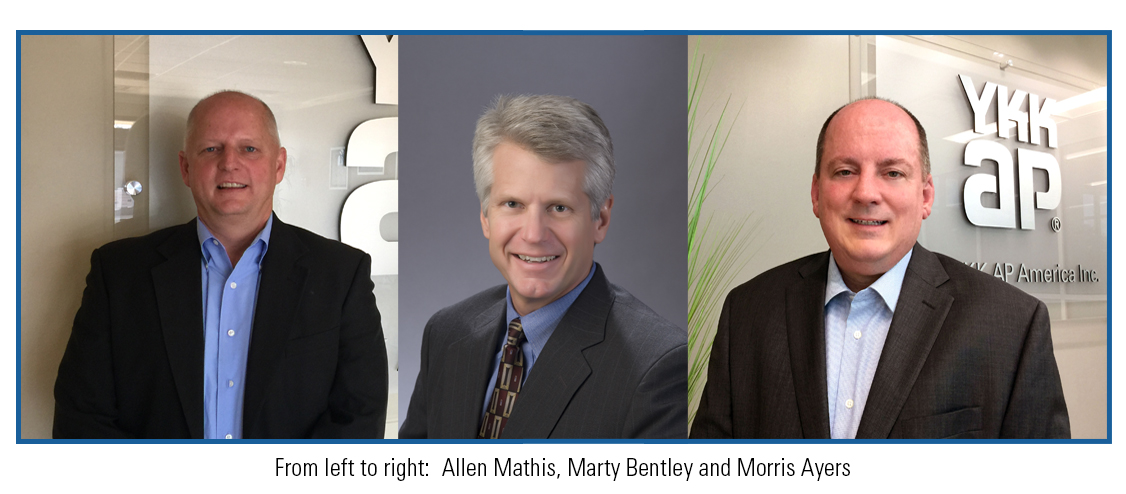 AUSTELL, Ga. (Sept. 19, 2017) – YKK AP America Inc. announced today the appointment of three key leaders to newly created management positions. These organizational changes support YKK AP America's long-term goals of strengthening its focus on its customers and employees, and poise the company for further growth as it continues expansion across the United States.
Effective immediately, Marty Bentley will serve in the newly created role of Director of Technology and Business Solutions. Morris Ayers has been appointed to the new position of Customer Experience Architect. Bentley and Ayers shall report directly to Allen Mathis who will now serve as Vice President of Operational Excellence.
"Our vision for making YKK AP America even greater begins with our customers and our employees. These important organizational changes deepen this commitment and set the course for us to enhance these relationships over the long-term," said Oliver Stepe, president of YKK AP America Inc. "I have personally witnessed the career growth of Marty, Morris and Allen, and I am thrilled to support them in their new roles. I look forward to seeing them thrive – individually, and as a team – as they contribute to YKK AP's continued success as a company."
Bentley joined YKK AP America in 2014 as manager of the Management Information Systems (MIS) department, and has since overseen numerous technology system improvements. In his role as Director of Technology and Business Solutions, he will continue to lead MIS and will seek further deployment of innovative technology platforms that will strengthen customer, employee, and peer-to-peer connectivity and interaction as well as system solutions to enhance operational excellence.
Ayers came to YKK AP in 2011. Having led supply chain operational improvements throughout most of his career, he possesses deep knowledge of residential and commercial operations and customer service. This experience will serve him well in his new role where he will aim to improve performance across the entire enterprise and to design solutions that will allow the company to excel in customer satisfaction.
Previously referred to as Supply Chain, Mathis' new organizational role as Vice President of Operational Excellence will now oversee enterprise level materials management, procurement, transportation, technology, and customer experience. Mathis and his team of leaders and professional staff will continue to strengthen YKK AP's customer and employee focus and overall company excellence.
ABOUT YKK AP AMERICA
YKK AP America Inc. is a technology-oriented manufacturer of commercial façade systems and residential doors and windows.  With every finished good, we push the boundaries in next generation manufacturing and create value for architectural applications.  Driven by a desire to provide exceptional service in our markets, YKK AP America builds upon our foundation of advanced engineering, vertically integrated manufacturing, and customer focus to deliver the highest level of quality at a competitive price.  Headquartered in Austell, Ga., all building products are manufactured in our world-class production facilities located in Dublin, GA. and Macon, GA.  YKK AP America Inc. is a subsidiary of YKK Corporation of America, whose parent company is global manufacturer YKK Corporation of Japan. For more information, visit ykkap.com and follow us on Linkedin.com.