YKK AP America Celebrates Success by Honoring Top Performers at Annual Sales Meeting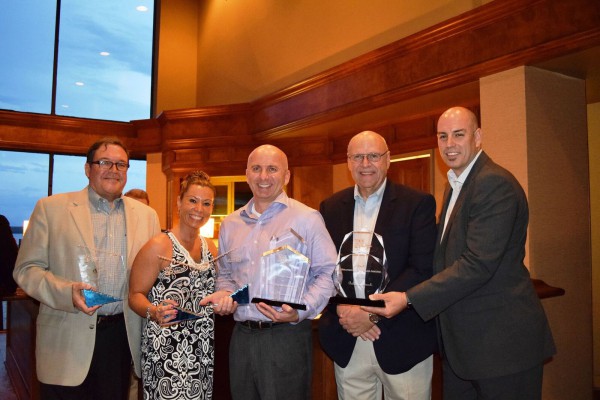 Manager Derick Clutchey (far right) and members of YKK AP Baltimore Branch.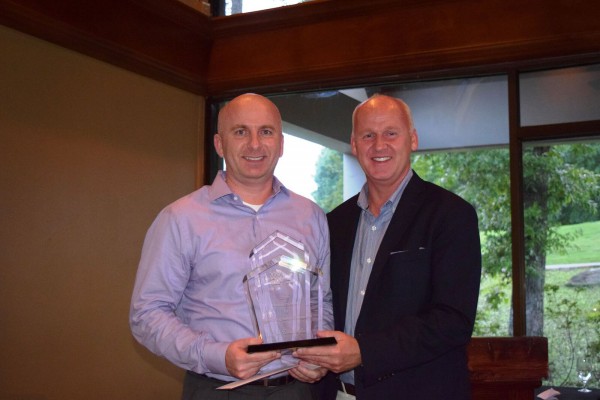 Salesman Jim Darcangelo (left) with YKK AP America President Oliver Stepe (right).
AUSTELL, Ga. (June 9, 2017) – YKK AP America recognized its top performers of 2016 during its annual meeting at Lake Lanier Lodge in Buford, Ga. The recipients were selected based on performance and growth during the 2016 fiscal year.
Honorees included Baltimore branch manager Derick Clutchey, who received the coveted Branch of the Year Award and architectural sales representative Jim Darcangelo, who was awarded the company's most prestigious individual honor, the President's Award. The Branch of the Year Award recognizes outstanding achievements in sales, profitability, operations and customer service excellence. Clutchey, who manages the Baltimore team, accepted the award on behalf of the branch.
"It was a proud and humbling moment in my career to accept this award on our team's behalf. Our success is due to our veteran staff and team's daily diligence and ongoing commitment," said Clutchey. "Our professional sales force is driven to grow our region's market share and business and has been successful in doing so. We look forward to continuing that growth and success moving forward."
Darcangelo, also a member of the Baltimore team, was humbled to take home the President's Award, which recognizes the company's highest performing sales representative. "It is a personal goal every year to achieve this award, and it was quite an honor to be personally presented with the award by YKK AP's president, Oliver Stepe. It was truly a collective effort amongst the Baltimore staff and a great and highly loyal customer base," said Darcangelo.
"YKK AP's success is largely due to the hard work and dedication of our sales team," said Mike Turner, senior vice president of sales and marketing at YKK AP America Inc. "We feel strongly in taking the time to reflect and celebrate our company's successes as well as the accomplishments of our sales team. This year's winners are a true representation of our employees' commitment to results and our customer-centric focus."
ABOUT YKK AP AMERICA
YKK AP America Inc. is a technology-oriented manufacturer of commercial façade systems and residential doors and windows.  With every finished good, we push the boundaries in next generation manufacturing and create value for architectural applications.  Driven by a desire to provide exceptional service in our markets, YKK AP America builds upon our foundation of advanced engineering, vertically integrated manufacturing, and customer focus to deliver the highest level of quality at a competitive price.  Headquartered in Austell, Ga., all building products are manufactured in our world-class production facilities located in Dublin, GA. and Macon, GA.  YKK AP America Inc. is a subsidiary of YKK Corporation of America, whose parent company is global manufacturer YKK Corporation of Japan. For more information, visit ykkap.com and follow us on Linkedin.com.