YKK AP America Bolsters ProTek® Line with 50 FS/FI Storefront System
New system offers enhanced product flexibility without sacrificing blast mitigation capabilities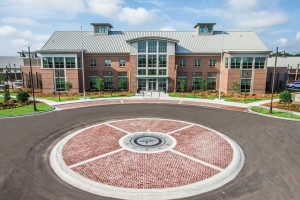 AUSTELL, GA. (Oct. 5, 2016) – A leader in the commercial façades manufacturing industry, YKK AP America, Inc. (YKK AP) introduces the YHS 50 FS/FI impact-resistant and blast mitigation storefront system to the popular ProTek® product line. The YHS 50 FS/FI offers architects a storefront solution for installations that normally would require curtain wall. A key benefit of the YHS 50 FS/FI storefront is that it is inside-glazed, allowing architects to specify a storefront in areas that would typically be restricted due to glazing requirements, including muddy jobsites or upper floors of a building.
Additionally, the YHS 50 FS/FI storefront provides a structurally sound exterior for hurricane-prone market segments, integrating tested and approved hinging and locking hardware into its entries. For projects where the design pressure is 50 pounds per square foot (PSF) or less, the YHS 50 FS/FI is value-engineered to reduce parts and pieces, lowering installation costs. When a project requires extended height and durability, the YHS 50 spans up to 12 feet and withstands pressure up to 90 PSF.
"YKK AP is dedicated to providing our customers with the solutions they need to bring their designs to reality, regardless of the codes and requirements they are challenged with in their region," said Greg Galloway, ProTek brand manager for YKK AP. "The YHS 50 FS/FI system provides architects with a high performance, impact-resistant solution that can withstand a variety of conditions, unleashing new design opportunities for commercial buildings."
Capable of withstanding gusts at the Wind Zone 3-level, the storefront also offers protection against wind-borne debris in High Velocity Hurricane Zones. This enables the product to protect the building while affording architects more design freedom. When it comes to system assets, the YHS 50 FS/FI is certified in IBC and Florida Product Approval standards. It meets all coastal area energy codes with a soft coat of Low E insulating glass. This system is designed to leverage safety measures, without sacrificing application possibilities for the architect. Additionally, the YHS 50 FS/FI is now qualified for the faster missile speed of Missile Level E.
The 50 FS/FI also incorporates the unique YKK AP ThermaShade® and Luminance® Sun Control technologies, providing a complete thermal barrier and sun-control solution.
For additional information about YKK AP or its products, please visit ykkap.com.
About YKK AP America
YKK AP America Inc. manufactures entrances, storefronts, curtain walls, window walls, sunshades, windows and sliding doors for office buildings, residential high-rises, schools, stadiums, shopping centers and institutional structures. All building products are manufactured in Dublin, Ga. in ISO 14001 certified facilities that operate in a sustainable manner by reducing pollution and waste. The company is also recognized by the U.S. Department of Energy for Exceptional Leadership in Industrial Energy Efficiency. YKK AP America is based in Austell, Ga. and is a subsidiary of YKK Corporation of America, whose parent company is global manufacturer YKK Corporation of Japan. For more information, visit www.ykkap.com and follow YKK AP on Twitter and YouTube.