YKK AP Takes Home 2021 Glass Magazine Award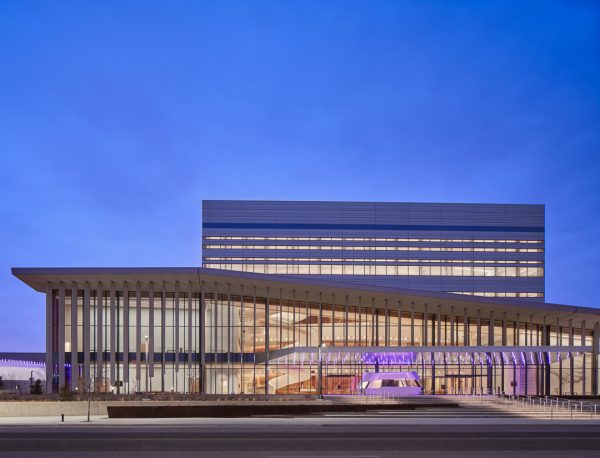 Glass Magazine announced the winners of the 2021 Glass Magazine Awards. The prestigious glass and metal industry awards program honors companies in 14 categories, and this year's winners present a remarkable industry that is still innovating, still growing and still building.
"This year's winners show why glass is the best material choice for performance, strength, occupant wellness, decoration and more," says Katy Devlin, associate publisher and editor in chief of Glass Magazine. "The winning projects run the gamut, from an unbelievable glass dome, to a multicolored hurricane-rated façade,
to a stunning and moving decorative memorial installation. Meanwhile, the winning products show how industry companies are responding to today's most pressing demands."
The winners for the competition's eight project and six product categories will be featured in the September/October 2021 issue of Glass Magazine, and on GlassMagazine.com. Glass Magazine Award winners will also be recognized in a recorded presentation, to debut at the Industry Pavilion at GlassBuild America: The Glass, Window & Door Expo in Atlanta, Sept. 13-15. Find the full feature at glassmagazine.com.
The 2021 Glass Magazine Award product and project winners are:
PROJECT AWARDS
Project of the Year, Best Feat of Engineering
Academy Museum of Motion Pictures, Los Angeles
Nominating company: Knippers Helbig
Runner Up: Project of the Year
Museum of Fine Arts Houston, Kinder Building, Houston
Nominating company: Eastman Chemical Co.
Best Protective Glazing Project
VA Ambulatory Care Center, Omaha, Nebraska
Nominating Company: Architectural Wall Systems
Best Jumbo Glass Project
Fountain Place, Dallas
Nominating company: Sentech Architectural Systems
Best Project Team
Buddy Holly Hall of Performing Arts and Sciences, Lubbock, Texas
Nominating company: YKK AP America
Best Green Project
Basecamp Lyngby, Kongens Lyngby, Denmark
Nominating company: Edgetech Europe GmbH | A Quanex Building Products Company
Best Glass Interior
Pendry West Hollywood, Hotel and Residences, Los Angeles
Nominating company: Giroux Glass
Best Decorative Glass Application
Hurricane Maria Memorial, New York City
Nominating company: Pulp Studio
PRODUCT AWARDS
Best Innovation for the Factory
FuseCube Express
Winning company: Diamon-Fusion International
Best Innovation for Installers
FHC Advance Herc-Door Rail and Patch Fittings
Winning company: Frameless Hardware Co.
Best Hardware Product or System
CRL Palisades Bi-folding and Sliding Door and Wall Systems
Winning company: C.R. Laurence
Best Glass or Glass Component
HMI's C.10 with Microban
Winning company: HMI Glass
Best Framing System or Component
Trifab VersaGlaze 601/601T/601UT Front Set Framing System
Winning company: Kawneer
R&D Award
VetraFin Impact
Winning company: Sentech Architectural Systems
About Glass Magazine
Glass Magazine is the leading trade publication of the flat glass industry, serving the commercial, retail
and fabrication segments. The official magazine of the National Glass Association, it provides subscribers
informative coverage of glass industry news, trends and analysis; product introductions; and best business
practices; in addition to glass industry statistics and supplier resource guides. Published eight times a year,
Glass Magazine also offers Glass Magazine Weekly, an electronic newsletter dedicated to glass industry news.
Glass Magazine created and maintains the website WorldofGlassMap.com, an interactive website that offers
a comprehensive look at the float glass manufacturing industry, identifying the dozens of float manufacturers
operating hundreds of float locations around the globe.