YKK AP Announces Completion of Significant Upgrades to Dublin Manufacturing Facility
More than $2 million invested in improvements demonstrates commitment to better serving employees and customers
DUBLIN, Ga. (June 28, 2019) – YKK AP America today announces the completion of its newly upgraded commercial manufacturing facility, after investing more than $2 million in renovations. The one-million-square-foot facility, located in Dublin, Ga., houses multiple manufacturing processes under one roof and includes 50,000 square feet of office space, where most of the renovations took place.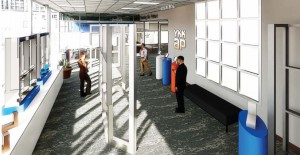 In addition to cosmetic upgrades such as new floors, ceilings, and work stations, energy-efficient lighting and insulation improvements were also included in the renovation. YKK AP expects to reduce utility costs with these upgrades as well as the carbon footprint of the facility. YKK AP employees were able to begin working in the new environment as of March 26.
"The improvements made to this facility are essential to showing our customers and employees that YKK AP is committed to providing outstanding quality and service, especially within our own walls," said Patrys Wiid, vice president of organizational excellence at YKK AP America. "Our team expressed the desire for a more innovative workspace – one that would energize them – and we listened. Our exceptional team deserves to work in an environment that is conducive to productivity and satisfaction, and these new facility upgrades demonstrate our world-class product and service offerings from the moment you walk through the door."
The facility's vertical manufacturing processes allow everything from materials development to equipment design to happen under one roof, making it possible to adjust production capacity, achieving efficient low-volume production and improve processes.
To learn more about YKK AP America's commercial facade systems and residential doors and windows, go to www.ykkap.com.
ABOUT YKK AP AMERICA
YKK AP America Inc. is a technology-oriented manufacturer of commercial façade systems and residential doors and windows. With every finished good, we push the boundaries in next generation manufacturing and create value for architectural applications. Driven by a desire to provide exceptional service in our markets, YKK AP America builds upon our foundation of advanced engineering, vertically integrated manufacturing, and customer focus to deliver the highest level of quality at a competitive price. Headquartered in Austell, Ga., all building products are manufactured in our world-class production facilities located in Dublin, GA. and Macon, GA. For more information, visit ykkap.com and follow us on Linkedin.com.
# # #