YKK AP Houston Lends a Hand to Renovate Local Women's Substance Abuse Treatment Center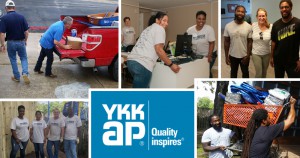 On Oct. 5, YKK AP joined forces with charitable organization AEC Cares for projectHouston, an effort to help improve the conditions of a local residential addiction treatment and housing facility, the Santa Maria Hostel.
The center was hit hard by Hurricane Harvey and its facility was in need of significant repair. AEC Cares adopted it for its annual daylong building project, which first began in 2011 – post-Hurricane Katrina.
Its efforts brought together more than 150 volunteers from across the architecture, engineering and construction industries to help make substantial upgrades to the Santa Maria Hostel. Outdoor green space was upgraded with a new garden, furniture and planters, as well as new playground equipment and a dining room and counseling rooms were remodeled with new flooring, lighting and furniture.
YKK AP's Houston branch came out in full force to lend their time and talents to help in this incredible project. The team moved tools and supplies, painted and helped build a new walkway for the center. Core to YKK AP's company values is its belief in measuring its value by our contributions to others – not by individual prosperity. This project exemplified the company's commitment to supporting the industry in which it works, and doing good for others.