YKK AP Launches Zero Sightline Window for Structural Silicone Glazed Curtain Wall
YOV SSG Operable Vent Window provides seamless appearance of a fixed window with optimal ventilation and natural light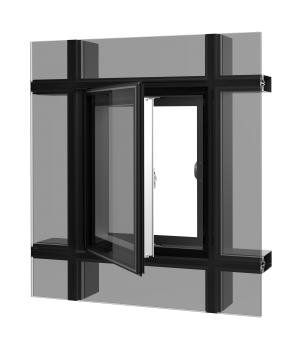 AUSTELL, GA (Jan. 24, 2018) – YKK AP America Inc. (YKK AP) today launches its thermally improved, zero sightline window designed for curtain wall systems. The YOV Structural Silicone Glazed (SSG) Operable Vent enhances the aesthetics of a building without the large sightline of a traditional window. Additionally, it improves occupant comfort with high thermal performance and an intentional design to provide optimum natural ventilation and natural light. The YOV SSG Vent is ideal for high rise, multi-family hotels and mixed-use residential as well as schools and offices.
"Across the industry we are seeing a greater desire for a clean, modern aesthetic without sacrificing the high energy and structural performance that is so critical in today's construction. We designed the YOV SSG Operable Vent to provide the best of both worlds," said Gary Flemming, business manager, commercial window products, YKK AP America Inc. "Its seamless appearance of a fixed window rivals any zero sightline window on the market today, and its thermal performance properties ensure an efficient, comfortable space for occupants. We are proud of this latest addition to our commercial window offering, and will continue to evolve to meet the ever-changing needs of architects and glazing contractors."
Versatility was top of mind in designing the YOV SSG Operable Vent, and makes it appropriate for a wide range of applications. Structural silicone, glass, triple gaskets and thermal isolators work together to provide high thermal performance, without a traditional thermal break. The YOV SSG Operable Vent accepts one-inch insulating glass and can be field-glazed or shop-glazed into a four-sided SSG curtain wall or any two-sided vertical combination of SSG or captured systems. It also has the ability to be triple-glazed and provides an integral venetian blind option. The YOV SSG Operable Vent comes in multiple configurations, including Casement Out or Project Out, and many YKK AP hardware options are available, including stainless steel hinges and bronze locking hardware, to achieve the desired look for the building. Tinted glass is recommended for the best aesthetic results.
The YOV SSG Operable Vent provides excellent ventilation that meets the 2012 International Energy Conservation Code (IECC) through Zone 6 with standard Low E (U = 0.39 COG), which can be used for smoke evacuation, egress and as a source of fresh air for HVAC systems. In addition to exceptional thermal performance and condensation resistance, the YOV SSG Vent also provides AW 70 architectural performance. AW 100 performance can be achieved with the Project Out configuration using the proper VMPL hardware.

For more information about YKK AP or its products, please visit ykkap.com.

About YKK AP America
YKK AP America Inc. is a technology-oriented manufacturer of commercial façade systems and residential doors and windows.  With every finished good, we push the boundaries in next generation manufacturing and create value for architectural applications.  Driven by a desire to provide exceptional service in our markets, YKK AP America builds upon our foundation of advanced engineering, vertically integrated manufacturing, and customer focus to deliver the highest level of quality at a competitive price.  Headquartered in Austell, Ga., all building products are manufactured in our world-class production facilities located in Dublin, GA. and Macon, GA.  YKK AP America Inc. is a subsidiary of YKK Corporation of America, whose parent company is global manufacturer YKK Corporation of Japan. For more information, visit ykkap.com and follow us on Linkedin.com.
# # #