StyleView® and StyleView® Contemporary Fixed Window Installation Instructions
For Picture, Casement Picture, Transom and Geometric Windows
STEP 1: Prepare the Opening
Ensure the rough opening is 1/2" larger than the window to be installed and that the rough opening is plumb and square. See Detail 1.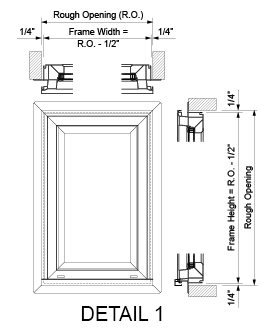 Note: The frame size of the window does not include any protruding nail fins.
Close and and lock the vent to help keep the unit square.
Apply flashing to the sill. See Detail 2.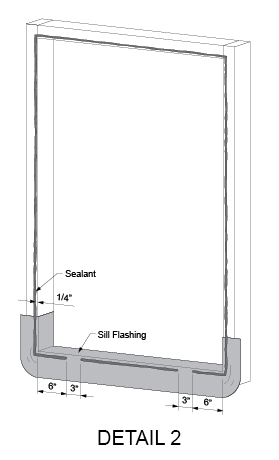 Apply a continuous bead of silicone caulk to the perimeter of the rough opening where the nail fin will make contact (no more than 1/4" from the edge of the rough opening.) Leave two 3" gaps for weepage at the sill flashing as shown.
STEP 2: Install the Window
Place 1/4" shims at either end and at every 12" maximum on center of the level sill plate. Place the window in the rough opening from the exterior, and center the unit in the opening, leaving a 1/4" gap between the unit and the rough opening on all sides. See Detail 3.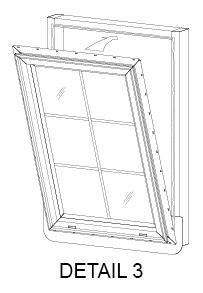 Secure the unit by loosely fastening through the center of one nail slot at the top of one of the jambs using a 7/16" head x 1-1/2" galvanized roofing nail or a #8 pan head corrosion resistant screw. (Other nails and staples are prohibited.)
Ensure the frame is plumb and the jambs straight. Shim at the top, bottom, and midpoint to correct any deflection.
Finish nailing the unit using every other nail slot (every slot for DP50 or greater). Operate window to confirm proper installation.
STEP 3: Finishing
Apply flashing the perimeter of rough opening, covering the vertical nail fin. Apply the flashing at the head and overlap the jamb flashing on both sides. The head flashing should be caulked or taped on the top edge. See Detail 4.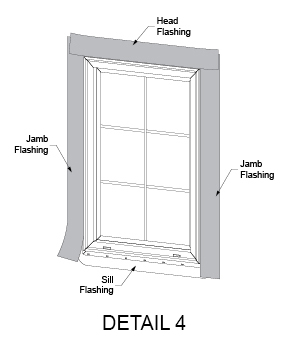 Use fiberglass insulation to insulate the cavity between the window and the rough opening structure.
From the inside of the window, apply continuous sealant to the interior perimeter of the window sill and 12" up the jambs as shown in Detail 5.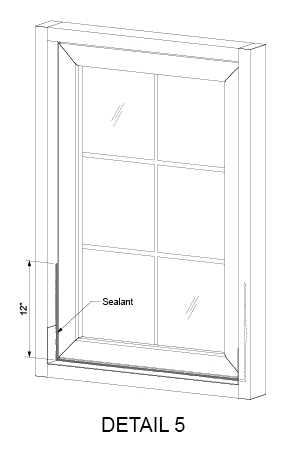 Notes:
Do not use expanding or spray-in foam products. If the installer used one of them, make sure jambs remain straight to ensure the operation of the window is not impeded.
If using brick or stone exteriors, leave a 1/8" gap from the window to allow for brick and mortar expansion. Use a backer rod and silicone caulk to seal the gap.
Do not use brick wash after windows are installed. Doing so will void the window warranty.
Windows should never be stored in an area where temperatures will exceed 140° F. Doing so will void the window warranty.
Windows should never be painted. Doing so will void the window warranty.